SPRING SCHOOL PROGRAM
OPEN FOR APPLICATIONS NOW!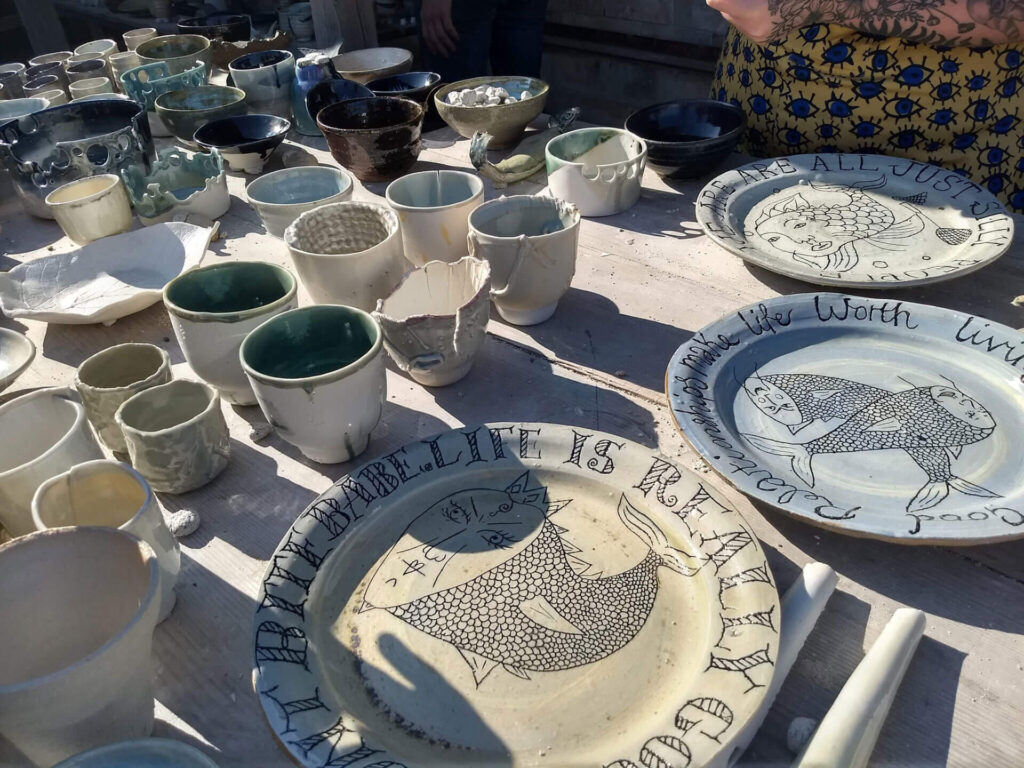 SPRING SCHOOL PROGRAM 2021
Program for students and graduates
Aim of the Program is to create a working environment for ceramic students and graduates seeking studio space, while their educational institutions are closed or they are operating at limited hours.
Pandemic time is a hard time for students who want to develop skills and knowledge while working with ceramics. Online lectures and workshops cannot replace the contact with the real material.
That's why we thought that we could offer some help and make a special discounts for students and graduates.
WHAT TO
EXPECT?
We are offering:
Discount for residencies from March to June
Studio space
Accommodation in shared rooms (single room is available for additional 1000 DKK) with access to shared kitchen and bathrooms
Access to all Guldagergaard facilities (Studio, Glaze Room, Plaster Room, Kiln Yard, Library)
Technicians' advice
You are responsible for:
Your own safety and respecting restrictions
Working independently on your own projects
Paying for your own materials and firings
Paying for your own travel expenses, meals, and other living expenses
Covid-19 precautions:
All participants are asked to take a Covid-19 test before arrival at Guldagergaard, which means that only participants with a negative result are allowed to work at the center.
Our Staff is regularly tested, as well as wearing facemasks for additional safety.
All areas of the Studio are cleaned and disinfected every day.
Who can apply:
We are inviting all fresh graduates and current ceramic students to apply. We have a limited number of spaces, so we encourage you to apply now.
Program fee:
4000 DKK per month
If you have any questions contact: kasia@ceramic.dk
Studio collection:
Guldagergaard has the largest collection of contemporary studio ceramics in Northern Europe. This dynamic and varied collection gives students and professors with the opportunity to engage with exceptional pieces of ceramic art outside of a gallery environment.
Studios and facilities:
Our state of the art studios were renovated in 2012 and can accommodate 16 artists at any one time. All resident artists and student groups at Guldagergaard have full access to our excellent facilities including our wide and varied range of electric, gas and wood kilns, as well as our 3D printing lab and plaster workshop. With a lecture theatre, meeting rooms and extensive library and support from our highly, qualified, experienced and dedicated team, Guldagergaard is the ideal venue to host educational symposiums.
Accommodation:
Residents at Guldagergaard have full use of our cosy and stylish house and are encouraged to make themselves at home. We have single and double rooms available and a few on suite options. All accommodation is subject to availability and is designated on a first come first served basis.
Museums and galleries – a world of opportunities (knowledge):
We encourage all participants to take excursions around Denmark to explore the extraordinary museums, galleries and private artist studios. Your program will include an exclusive itinerary that will bring you to major museums and galleries in Denmark as well as visits to some of Denmark's most important and outstanding artists and designers. The Guldagergaard staff will of course also be able to give you recommendations and guidance as to transportation, costs, sights, etc.