PROFESSIONAL DEVELOPMENT SYMPOSIUM
OPEN FOR APPLICATIONS NOW!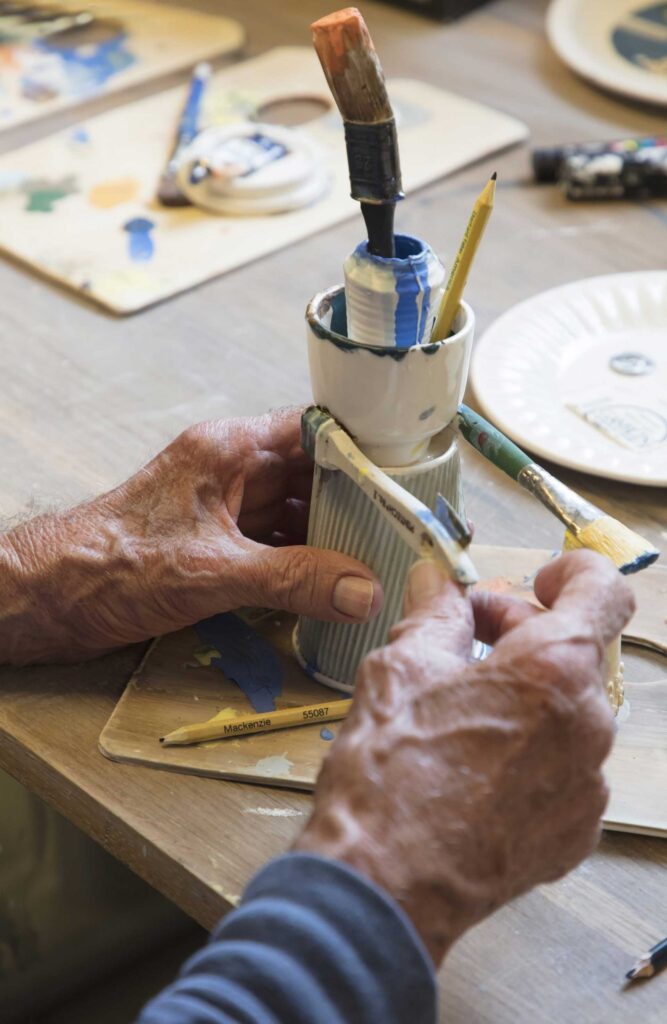 Program III – Professional Development Symposium
Symposium frame:
2–4 weeks duration
10-14 students from at least 3 institutions
up to 3 professors
Professional Development Symposium is a unique opportunity for students, immersive and multi sensory it covers all aspects of a professional career in Ceramics.
The aim of the symposium is to provide students with:
a platform to share ideas and knowledge
the opportunity to forge networks and to promote opportunities for emerging makers
the acquisition and the development of specialist production techniques and skills
support and guidance for each individual student in order to provide them with the tools they need to contextualise their practice within the wider contemporary ceramic art and design field.
WHAT TO
EXPECT?
Throughout the program students are given the opportunity to learn or develop technical skills through workshops and demonstrations including 3D printing, plaster mould making, throwing, glaze technology, large-scale construction and wood-firing.
There will be a comprehensive lecture and discussion programme including invited artists who will talk about their own artistic practice, specialised construction techniques and their artistic application or a focus on contemporary ceramic art across a global platform.
Students and Professors are encouraged to share their knowledge with the group and we encourage all students to present themselves and their work, either in the format of a presentation or as part of an informal critique.
The symposium includes guided excursions to major Danish Museums and Contemporary Art Galleries in Denmark as well as factories and Artist/Designer studios. All these activities are designed to give participating students a clear overview of the different paths open to them when considering a career as a professional ceramic artist or designer/maker. We hope that the connections they make during this symposium, with each other and with Guldagergaard ICRC prove to be inspirational, enabling, supportive and long lasting.
Studio collection:
Guldagergaard has the largest collection of contemporary studio ceramics in Northern Europe. This dynamic and varied collection gives students and professors with the opportunity to engage with exceptional pieces of ceramic art outside of a gallery environment.
Studios and facilities:
Our state of the art studios were renovated in 2012 and can accommodate 16 artists at any one time. All resident artists and student groups at Guldagergaard have full access to our excellent facilities including our wide and varied range of electric, gas and wood kilns, as well as our 3D printing lab and plaster workshop. With a lecture theatre, meeting rooms and extensive library and support from our highly, qualified, experienced and dedicated team, Guldagergaard is the ideal venue to host educational symposiums.
Accommodation:
Residents at Guldagergaard have full use of our cosy and stylish house and are encouraged to make themselves at home. We have single and double rooms available and a few on suite options. All accommodation is subject to availability and is designated on a first come first served basis.
Museums and galleries – a world of opportunities (knowledge):
We encourage all participants to take excursions around Denmark to explore the extraordinary museums, galleries and private artist studios. Your program will include an exclusive itinerary that will bring you to major museums and galleries in Denmark as well as visits to some of Denmark's most important and outstanding artists and designers. The Guldagergaard staff will of course also be able to give you recommendations and guidance as to transportation, costs, sights, etc.
Price:
Teachers/Professors:
Free studio and accommodation for one month worth 7,200 DKK.
Price does not include; Material and firing costs, personal and travel expenses.
Students:
2 weeks: 4,250 DKK
4 weeks: 8,500 DKK
Price includes: accommodation and studio space, material and firing budget equivalent to 12.5kg clay and 1 bisque firing, full access to our research database and the kiln yard, artist lectures and workshops, guided excursions to 2 museums, an exclusive itinerary to studios and design workshops in Copenhagen and Kolding.
Price does not include: travel and personal expenses, additional material and firing costs other than stated.
MEALS
The manor building is fully equipped with a kitchen, that can be used freely by students and teachers. There will be space in the cupboard and in the refrigerator, where food and other things can be stored. There will be two options for meals during the stay.
Option 1:
The participants make their own breakfasts and lunches at meal breaks and have a specific place to have their personal food items.
For the evening meal, residents of the house will rotate as "Chef of the Day" and cook once a week for the rest of the house creating a cozy atmosphere of idea exchange and camaraderie over shared dinners. Past residents of Guldagergaard often cite this as one of their favorite memories of their time here.
Option 2:
Another option for participants is to pre-order all meals with a catering company at an extra cost of 200 DKK per person per day, alleviating any need to cook or prepare meals. The catered meals will be delivered to Guldagergaard for the participants to enjoy.
Meal breaks can be scheduled by Professors with the staff at Guldagergaard, and we will be sure to have meals delivered at appropriate meal times.
All participants are encouraged to feel at home in the Manor House. All rooms are well equipped with modern furniture and with attention to Scandinavian design aesthetics. We are pleased to feature Arne Jacobsen furniture in the dining room and living areas.